It's a bold statement, but this truly is the best pasta salad ever.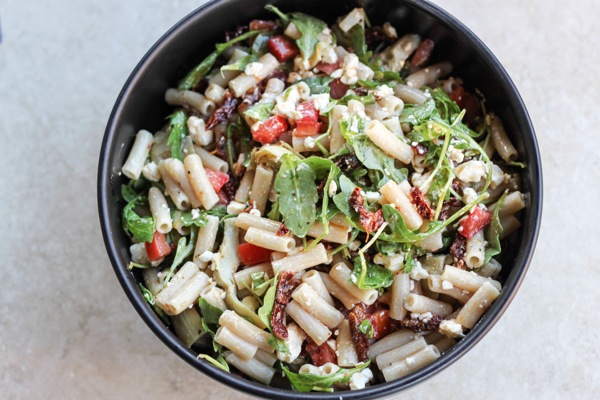 We went to our little cousin's birthday party last weekend, and while it was a blast to hang out with the fam, swim with Livi and hear her sing "Happy Birthday," the star of my heart was a pasta salad. Not just any pasta salad. The BEST pasta salad. After a long run and teaching day, it was music to my soul.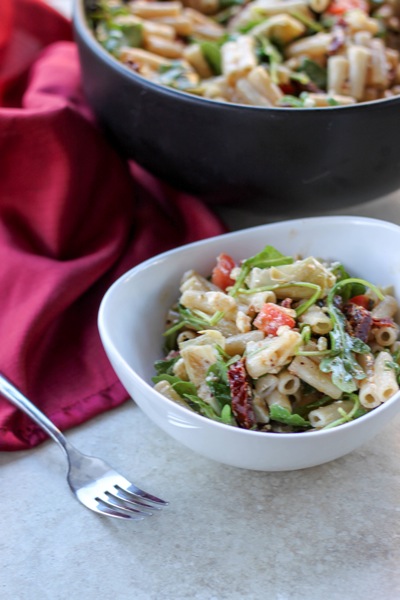 My Uncle Eric is a chef and recently moved here from Florida. He makes the BEST food. For real. He's a wealth of knowledge and is always teaching me tips and tricks, like how to make a good bolognese or what the heck to do with truffle oil. (For the record, the latter is out of the world drizzled on grilled foccacia with some arugula, salt and pepper.) For the birthday party, he made some beautiful fruit platters and grilled flatbreads, along with the most amazing pasta salad I've ever had.
For a long time, I kind of hated pasta. I now understand what a travesty that was, because after being in Italy, I know how freaking good pasta can be. It needs to be al dente (i.e. not soggy) and well-flavored. If those things happen, it can be pretty insanely amazing.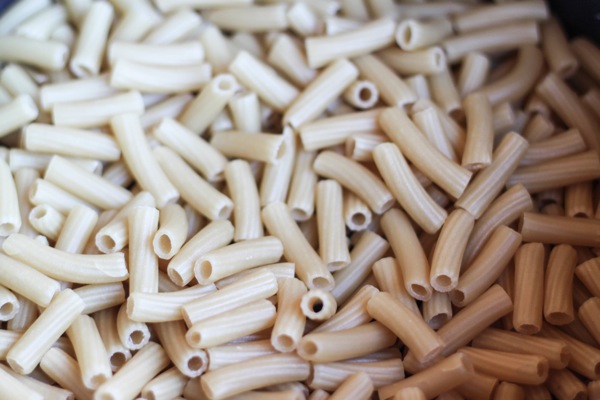 Best Pasta Salad Ever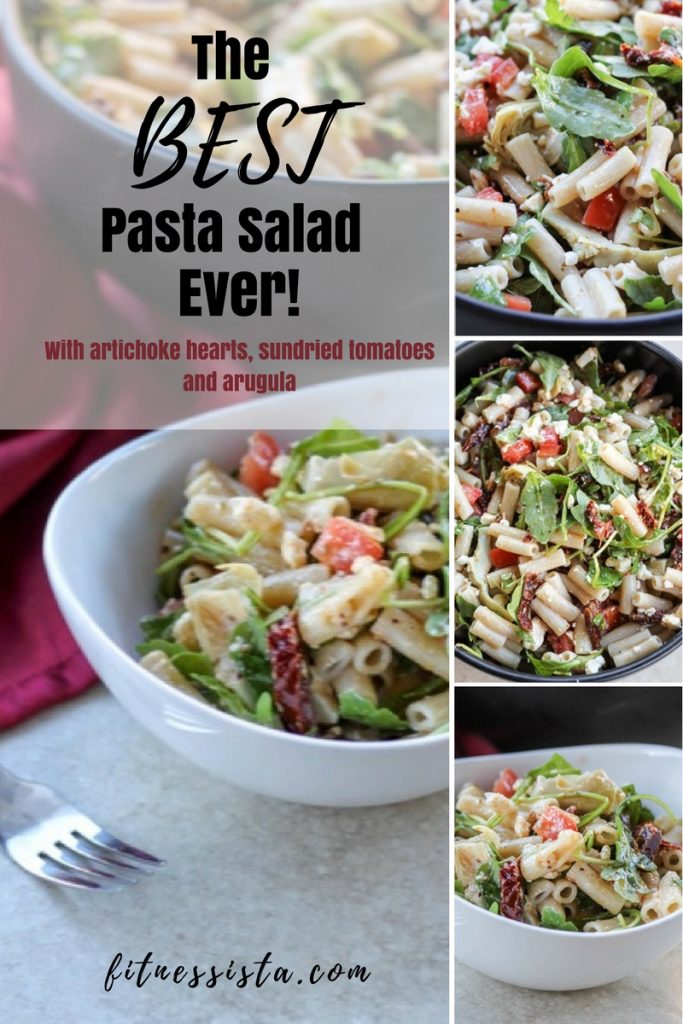 For this pasta salad, all you do is combine a few ingredients in a bowl, along with some of your favorite penne.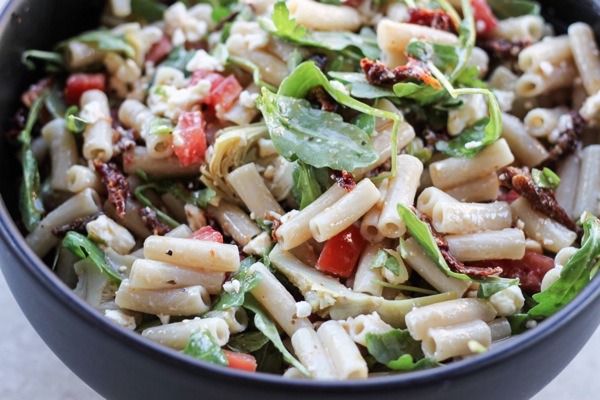 Something about the combination of flavors and textures… well, it was so good I had to make a batch for us to have for dinner and leftover/lunches this week.
Mix a few ingredients into a bowl,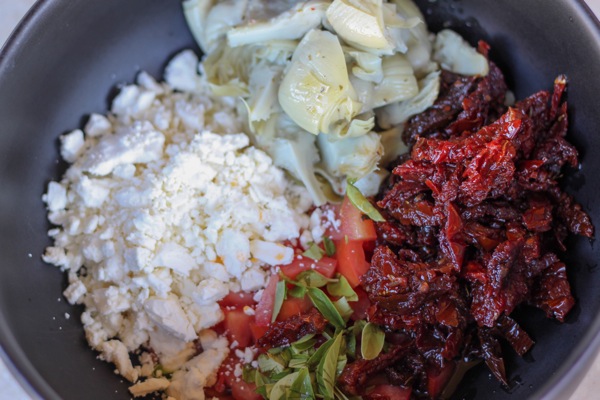 After you cook the pasta and run cold water over it -I did 12oz of brown rice penne-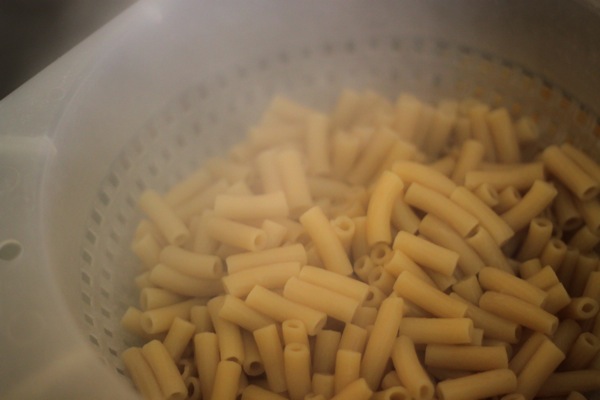 add to the bowl with the rest of the party. Toss to combine.
Here's the video how-to for ya, too ? SO easy and so good!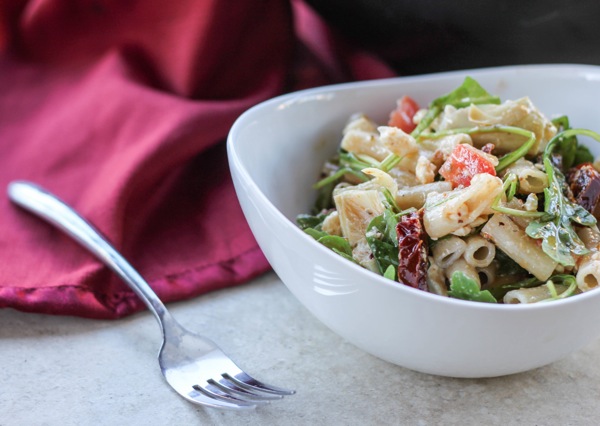 Insanely easy, and so delicious. Let me know if you give it a try! I especially love it cold out of the fridge ?
Print
The best pasta salad you will ever have in your life
Prep Time:

15

Cook Time:

10

Total Time:

20
Scale
Ingredients
One jar of sundried tomatoes in oil, drained
One jar of marinated artichoke hearts, drained
One container of feta cheese
Two fresh tomatoes, seeded and chopped
Two large handfuls of fresh arugula

1/4

C chopped fresh basil, two heaping tablespoons of basil from a tube, or pesto
Olive oil, salt and pepper to taste

8

servings of your favorite penne pasta, cooked al dente in salted, boiling water
Instructions
In a large bowl, add the fresh tomatoes, sundried tomatoes, basil or pesto, feta, artichokes and arugula.
Drizzle with olive oil and season well with salt and pepper.
After the pasta is cooked, drain and run cold water over it.
Add the pasta to the bowl and toss to combine. Add additional oil, salt or pepper as needed.
Notes
Add garbanzo beans or animal protein for an extra protein boost!
Stores extremely well in the fridge and tastes even better as leftovers.
Are you a pasta fan or not so much? Any quick and awesome dinner recipes lately?
Hope you have a wonderful day! I'll see ya later this afternoon with a giveaway ?